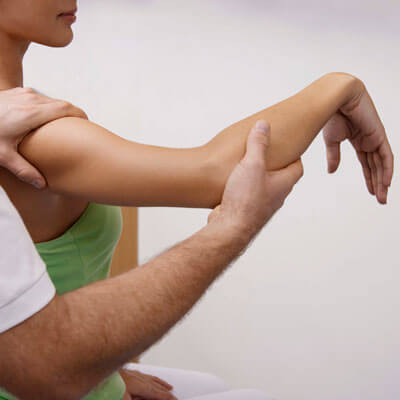 Physiotherapy in North Edmonton
Addressing the Cause of Soft Tissue Pain
To serve our patients suffering in pain, we leave no stone unturned. Physiotherapy can be especially helpful for the resolution of muscle and soft tissue pain. We use a variety of techniques. Each is designed to reduce inflammation and get you to pre-injury status.
We take a personal approach. Instead of group sessions, you'll work privately with our therapist. Your progress will be carefully monitored and updated. At Edmonton Pain & Injury Clinic we want to see you progress quickly. That way you can return to your daily activities.
Intramuscular Stimulation Relief, IMS Therapy
Along with the more standard techniques below, we offer Intramuscular Stimulation. It's a highly effective treatment for chronic pain caused by the shortening of deep muscles. Our goal is to release this tension. It's an approach similar to acupuncture. Patients love it. Be sure to ask about it.
Additional Therapeutic Protocols
With so many different therapeutics, we can custom build a treatment protocol for your specific symptom. We use the most up-to-date therapeutic protocols:
Shockwave therapy – This stimulates the healing of tendons and ligaments. The physical shock (not electrical) stimulates blood vessel growth. This helps provide nutrients that promote soft tissue healing and reduce pain.
Spinal decompression – Computer controlled traction opens up spinal discs. This helps reduce herniations and often eliminates the need for surgery. The pump-like action helps speed the healing process and reduce pain.
Massage therapy – We offer various types of massage. Each pairs nicely with chiropractic care and physiotherapy by addressing underlying muscle tension. Massage can help reduce soft tissue adhesions and address specific trouble sites.
Custom foot orthotics – The foundation to your spine is your feet. These shoe inserts help correct abnormal or irregular foot biomechanics. Besides addressing foot pain, orthotics help support ankles, knees and hips.
Electrical Muscle Stimulation – We use a special type of low-level electrical current. Adhesive patches are placed on the skin to deliver the current. This helps "reeducate" the muscle as it reduces inflammation and spasm.
From this menu of resources, we'll create your custom rehabilitation and strengthening program.
Let's Get Started
Have insurance? We direct bill the insurance company, creating a seamless experience for our patients with no upfront costs.
Give our North Edmonton chiropractic office a call. Or click here to email us and we can arrange a time to explore your options!
CONTACT US »
---
Physiotherapy North Edmonton, Edmonton, and Sherwood Park AB | (780) 760-2225